CORPORATE TRAINING

At Martial Art Academy of India we know how stressful daily life is, but have found that our classes are an excellent way to relieve that stress. Our lessons will also help you and your colleagues to channel both physical and mental strength.

We offer a high energy session focusing on relieving stress. Kicking, punching and shouting into the air and onto focus pads. There is NO CONTACT with other people and the lesson is therefore as safe as can be.
The class will also include energising breathing techniques to help relieve stress and increase oxygen flow to the muscles and brain.
Interested in getting your colleagues together for a stress busting class?
We believe that our lessons are a worthwhile investment for you and your colleagues.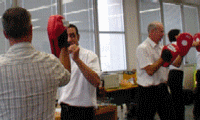 Tailor Your Class
Martial Art Academy of India aims to make our lessons accessible to everyone! Young and old, men and women, fit and unfit!
We tailor our classes to meet your needs.
So, if you just fancy doing a little light exercise or learning some self-defence techniques, we can arrange that for you. Or of course if you had something a little more high impact in mind, then we have some focus pads that will weather even the fiercest of fisticuffs!

Benefits

BONDING EXPERIENCE: Our aim at Martial Art Academy of India is to improve trust and respect in the group environment. We have found that Martial Arts are a very effective way to build relationships by channeling these energies in a positive way. Office politics won't ever be the same again!

SHOW YOU CARE What better way to show your colleagues that you care about them than to arrange a stress busting class!

IMPROVED FITNESS As physical exercise, Kickboxing is a great way to get in shape: ongoing classes enable you to burn off more calories and exercise more muscle groups than you knew you had - which means a really thorough, all-over workout. And not only does it strengthen muscles, but it increases flexibility too so your body will look and feel more toned.

IMPROVED FOCUS Improved fitness means improved focus. At Martial Art Academy of India we draw on Eastern meditation and breathing techniques to help relax the mind, so you will feel reinvigorated and more able to concentrate - both during the class and back in the office.
SPIRITUAL ADVANTAGES: The training improves self esteem, confidence and self-discipline. It stimulates the mind and develops inner strength and is an excellent way to release (by shouting! punching and kicking out) stress.
It's FUN!!!! Improved self confidence!

SUMMARY

What: Either (1) Stress busting kickboxing class (Punching, kicking & shouting) - aerobic. or (2) Self defence class, non-aerobic .... or both!
Where: At your company's premises.
When: Any time you like - morning, noon, evening, weekday, weekends.
How often: Just a one-off class, once a week, once a month. 2 classes. YOU decide.
Price: ASK FOR PRICE
Safety: There is no one on one contact. A perfectly low risk, safe environment. That's fun and friendly!
Who: The classes are unisex, though women and/or men only classes can be arranged, just let us know what you require.

Still not sure? Please mail us with any questions:

Martial Arts, Sports, Fitness, Yoga, Brazilian Jui Jitsu, Tae Kwon Do, Wushu, Kung Fu, Karate, Krav Maga, Self Defence, Muay Thai, Fat Loss, Tone up, MMA, Mixed Martial Arts, Brazilian Jui Jitsu, Fitness, Kickboxing, Yoga, tai chi, Martial Arts, new delhi, north delhi, east delhi, west delhi, south delhi, noida, gurgaon, faridabad, ncr, india