Corporate self-defence

There is a growing trend in companies providing their employees with personal safety training in the workplace as part of their corporate well-being initiatives for their staff. What a fantastic way for a company to show that it appreciates its staff and cares for their welfare. The course also provides a great opportunity for team building and boosting company morale.
We have conducted personal safety/self defence training at many blue chip companies as well as courses for smaller businesses.
We focus on general safety awareness and the reinforcement of good personal safety habits. The participants are encouraged to share their views, experiences and concerns. Thus the workshops are very scenario based rather than in lecture format.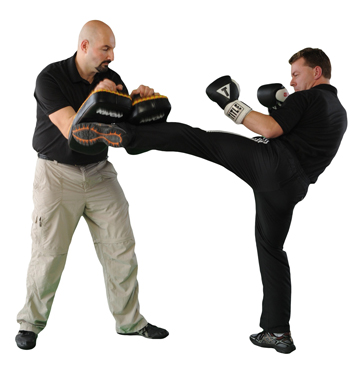 Q: What is covered in the course?
A: Our self-defence courses are designed for the everyday person. All our courses cover personal safety awareness in your daily life as well as focusing on easy to remember and effective physical self-defence techniques.
The workshop covers
Personal safety talk & safety in your daily life
Drug Rape Awareness- information on and avoidance of the alarming rise of drinks being spiked to rob or sexually assault individuals (this applies to both men and women)
Identification of risk situations and avoidance
Teaching participants practical & highly effective self-defence skills
Identifying target areas on an attacker's body
Victim Mentality
Educate participants that they have choices when they are faced with an attack situation
Understanding the violent mind
Breakdown misconceptions of rape/violence
Build confidence in your own capabilities
Why verbal diffusion is so important

Q: Do you train men and women?
A: Yes, we teach both women and men together. However, when requested we can teach these groups separately and this is done for a couple of reasons. Firstly the patterns of attack tend to be different for males and females: Generally when a male is attacked the attack is usually from the front and invariably does not have a sexual motive compared to an attack on a female by a man which is often from behind and often has a sexual motive. Thus the types of defence techniques taught vary in order to deal with the different attack patterns. Secondly, women tend to feel more comfortable in a group with just women when subjects such as rape and sexual abuse are discussed.
However, if a group of men has a small group of women who wish to join the course and vice versa we can can discuss tailoring the course. Ideally though the groups should be taught separately.

Q: Is this a martial arts course?
A: No, Self-Defence . in has designed their courses specifically with the everyday person in mind. We base our course content on real life safety awareness concerns and real life attack patterns that we have studied over many years. Martial Arts is a sport and a way of life and thus is not always practical when it comes to realistic, effective and easy to remember "street" self-defence techniques.

Q: Do you have to be fit to do the course?
A: You do not have to be fit or sporty. Self-defence training is a life skill and not a fitness or martial arts class.

Q: Is the training held in house?
A: Selfdefence . in will come in and teach at your company. The workshops are usually run during office hours we are flexible so as to accommodate the most suitable time for your company.

Q: How much space is needed to train?
A: A space no bigger than an average sized meeting room. Some of our clients clear a small area in the office canteen.

Q: Does the company need any equipment?
A: Selfdefence . in will provide all the necessary training equipment.

Q: Is there a min & max number for a course?
A: There is no minimum number but we have a maximum of 30 per session. Two instructors wil be present at each course.

Q: How much do the workshops cost?
A: we have price brackets as follows:
1-10 employees
11-20 employees
21-49 employees
50-74 employees
75+ employees
vat taxes & conveyance refreshment etc.
we would be pleased to give a quote.

Please note: We have a minimum 1 hour workshop charge Inr 20000/ + VAT For courses conducted in Delhi, a travel cost charge is made. This travel charge is always discussed and pre agreed with the client prior to the workshop.

Martial Arts, Sports, Fitness, Yoga, Brazilian Jui Jitsu, Tae Kwon Do, Wushu, Kung Fu, Karate, Krav Maga, Self Defence, Muay Thai, Fat Loss, Tone up, MMA, Mixed Martial Arts, Brazilian Jui Jitsu, Fitness, Kickboxing, Yoga, tai chi, Martial Arts, new delhi, north delhi, east delhi, west delhi, south delhi, noida, gurgaon, faridabad, ncr, india