GROUP CLASS

As a beginner, you will punch and kick pads and bags like there is no tomorrow. It is an awesome workout! Muay Thai is perfect for men and women looking for reliable and practical self-defense with superior cardio conditioning.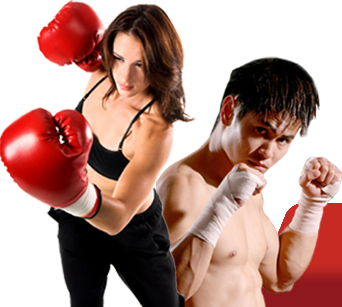 Get Fit & Feel Great! Kick through in a more confident fashion! Treat yourself to safe, fun and friendly Muay Thai lessons! An opportunity to get fit at the same time as making new friends!

Please note that we cannot confirm your space until we receive your registration and payment.

Respond as quickly as possible to ensure your space is confirmed as classes are filling up! Please do not hesitate if you are unfit, overweight, a complete beginner ... Martial Art Academy of India will get you fit, help you lose that weight and teach you how to defend yourself.

Once you have completed your first quarter, the idea is that you continue with the next one ... right up to black belt standard, or World Champion! Or perhaps you'll just continue because your fitness is improving and you're having fun! Each individual's progress is very important to us - and we recognise that we all have different needs and preferences.

Martial Arts, Sports, Fitness, Yoga, Brazilian Jui Jitsu, Tae Kwon Do, Wushu, Kung Fu, Karate, Krav Maga, Self Defence, Muay Thai, Fat Loss, Tone up, MMA, Mixed Martial Arts, Brazilian Jui Jitsu, Fitness, Kickboxing, Yoga, tai chi, Martial Arts, new delhi, north delhi, east delhi, west delhi, south delhi, noida, gurgaon, faridabad, ncr, india