Martial Art Academy of India was established in 1990, since establishment we recommend all type of martial arts, as they can all engender a feeling of self worth - provided you are training with the right instructor.-We are qualified to teach Kung Fu, Tai-Chi, Qi-Gong, Kickboxing, Muay Thai, Self Defence, Karate, Krav Maga, Falun Gong, Tae-Kwon-do, Yoga & Meditation.

Kung-fu is an art that entails not only self defense skills or getting in shape but also teaches about the mind, body and spirit and how one can grow in all aspects of life. At Indian Martial Art Academy you will be able to grow stronger physically, mentally, and spiritually fast than any GYM, video, or book could ever do.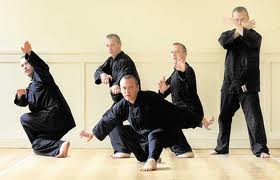 Please note that martial art training within our school is highly controlled. The focus is not to hit hard and 'damage' other members of the class, however it is to learn an art form, improve confidence and fitness, at the same time as having fun. Violence and aggression do not exist in Martial Art Academy of India's vocabulary


About Us


Our students achieve life-changing positive results because we focus on the traditional inner teachings of martial arts: the development of a strong mind, body and spirit.
Our school emphasizes the cultivation of:
Courage
Integrity
Modesty
Perseverance
Courtesy
Self Discipline
Self Control
Indomitable Spirit
As the chief instructor I'm often asked if I've ever had to use my martial arts skills. My answer? I use my martial arts skills every day! No, not the fighting part. I have had a number confrontations but of much more importance to me is that each day I enjoy better tolerance and understanding, a more positive and generous spirit, reduced stress, greater relaxation, improved physical fitness, , and so much more. These skills and attitude are a purely down to my martial arts training.
We teach our students many stories like this one because the children love them—and they learn valuable lessons that stay with them for life
One of the top martial arts programs in India
How every you would like to measure - curriculum, facilities, number and quality of students, success of our students - The Martial Art Academy ranks among the top martial arts schools in the country.
I've watched so many student start out painfully shy and insecure, eyes glued to the floor, afraid to make a move. As they're guided and nurtured over the days, weeks and months, as they start to achieve real progress and feel their own strength, they can be who they would like to be and stop being restricted by their shyness.
As a parent there is nothing better than seeing your child smiling, brimming with confidence and pride as they stand at the front of the class demonstrating a technique. If this sounds impossible, it couldn't be your child – then come along as I guarantee that it will be!!
Take a look at this list of just some of the important lessons that await you and your child with our program:

The difference between discipline and self-discipline, and the secret to getting your child to WANT to do what you want her to do
Key actions that every child must know to protect against predators and strangers
Our proven steps for shy and timid children to turn into brave and confident go-getters
Why it never works to tell your child to ignore bullies—and the strategies that do work most often
The Essential Principles for becoming a successful leader in school and in life
The behavioral habits that nearly all top athletes share, and how they can become your child's habits
The common strategic errors that even many martial artists make in a real self-defense
situation—putting their lives or the lives of loved ones at serious risk
The Shaolin path to cultivation of greater wisdom and compassion that has been practiced by Kung Fu masters for centuries
How to turn a disrespectful child into an angel—well, at least into a respectful child—in 60 days or less
Our Teaching Approach
Though all martial arts schools teach kids how to kick, punch, block and grapple we focus on the inner teachings of martial arts: the development of a strong mind, body and spirit.
I'm sure that you will agree that your child's biggest challenge likely doesn't come from physical threats at school or in the neighborhood (although our martial arts classes will give your child the confidence and skills to cope with that).
The challenge comes, instead, from dealing with the forces within. Often your child's greatest enemy is his or her own lack of self-esteem and confidence.
Optimal Class Structure
Our children's classes are divided by age groups and by level of experience to ensure that each child progresses at an optimum pace: We restrict number of students to Less than 20 in every batch.
A recent Discovery Channel documentary on martial arts styles chose Shaolin Kung Fu as the Number One style in existence!
Today every town and village a Tae Kwon Do or Karate school, but it remains difficult to find authentic and traditional Kung Fu training with its rich history and true mind, body and spirit emphasis. The Martial Art Academy (Kung Fu Young Achievers program) is one of the few schools in the India to offer such genuine Kung Fu.
Your child will enjoy a number of benefits and special services that go far beyond just the great classes we teach.
Showing Respect
Random Acts of Kindness
Personal Safety• Personal Hygiene
Making and Keeping Good Friends
And much more.
A Carefully Developed Curriculum

Your child will follow a carefully thought out curriculum that leads all the way to the Black Belt. We'd be delighted to show you exactly how we will help your child develop the mental, physical and emotional skills needed to advance all the way from novice White Belt up to advanced Black Belt! A Black Belt is a White Belt that never gave up.

Boys and girls who earn their Black Belt stand head and shoulders above their peers when it comes to confidence, self-esteem, success skills, leadership skills and a positive view of themselves and the world around them.

Think how important that confidence and positive self-image are for children to be able to Say No to the negative peer pressures they face every day, and Yes to the positive challenges that lead to success in life. Martial arts really can change your child's life forever!

I understand that The Kung Fu School can't be the right school for everyone

It's possible that we are not the kind of martial arts school that some parents are seeking for their child. We're not a babysitting service, nor do we give away Black Belts to anyone who pays tuition. Your child will have to work hard at real martial arts training in our classes, and must develop the physical, mental and emotional qualities that a skilled martial artist is known for to be promoted to Black Belt.
We are a top quality, full-time school offering authentic martial arts at great value. We are competitively priced with other quality full-time martial arts schools.

Martial Arts, Sports, Fitness, Yoga, Brazilian Jui Jitsu, Tae Kwon Do, Wushu, Kung Fu, Karate, Krav Maga, Self Defence, Muay Thai, Fat Loss, Tone up, MMA, Mixed Martial Arts, Brazilian Jui Jitsu, Fitness, Kickboxing, Yoga, tai chi, Martial Arts, new delhi, north delhi, east delhi, west delhi, south delhi, noida, gurgaon, faridabad, ncr, india