SPECIAL FORCES

SECURITY ESTABLISHMENTS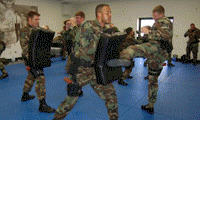 This program is well-integrated, meaning that similar defensive principles apply to a variety of hostile situations. Therefore, the system can be learned in a relatively short period of instruction. The system is designed to train large numbers of personnel at one time. The techniques are easy to retain with minimal review and can be performed under extreme stress. Police force, army units, and security units of all levels who have to deal with different kinds of reality then a civilian. The basic difference is, that a civilian can choose to avoid certain situations, whereas the security units have to deal with a given situation, neutralize the danger, using reasonable force and still obey the law.
Each combat training course is capable of being modified to the specific problems and needs of the client.
Our combat courses consist of all the necessary requirements in order to develop high combat skills and provide an in depth understanding of the daily threats we face.

Martial Arts, Sports, Fitness, Yoga, Brazilian Jui Jitsu, Tae Kwon Do, Wushu, Kung Fu, Karate, Krav Maga, Self Defence, Muay Thai, Fat Loss, Tone up, MMA, Mixed Martial Arts, Brazilian Jui Jitsu, Fitness, Kickboxing, Yoga, tai chi, Martial Arts, new delhi, north delhi, east delhi, west delhi, south delhi, noida, gurgaon, faridabad, ncr, india