PERSONAL KICKBOXING
(ONE TO ONE SESSIONS)

Without a doubt all students rapidly improve their martial arts abilities and knowledge with private tuition. One on one lessons working on any area of kickboxing you choose, from technique to self-defense to fitness to advanced kicks. Private lessons are usually one hour long but can be a length of time to fit in with your schedule.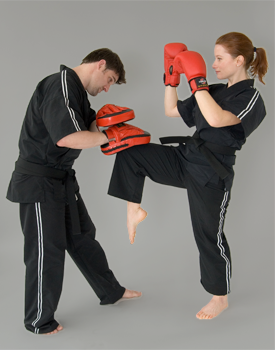 Work on:
Back To Basics - focus on correcting and sharpening technique
Power - fine tune body mechanics to increase the power in your technique
Advanced kicking and punching
Self defense - learn new skills, improve old skills
Weaponry skills
Preparing for high grades
Fitness - private tuition is a workout designed just for you!
Private lesson can be one to one with your Instructor or shared with a friend. Speak to your Instructor for further details and booking availability.
FITNESS ASSESSMENTS
Need help reaching your fitness goals? Set up an appointment with a member of our fitness center staff for an assessment. They will take your weight, Height, calculate your BMI, Check your Strength, Stamina & flexibility Level. Once these information is obtained a workout plan can be designed just for you.

Martial Arts, Sports, Fitness, Yoga, Brazilian Jui Jitsu, Tae Kwon Do, Wushu, Kung Fu, Karate, Krav Maga, Self Defence, Muay Thai, Fat Loss, Tone up, MMA, Mixed Martial Arts, Brazilian Jui Jitsu, Fitness, Kickboxing, Yoga, tai chi, Martial Arts, new delhi, north delhi, east delhi, west delhi, south delhi, noida, gurgaon, faridabad, ncr, india