Group Selfdefence Classes

Time to time Selfdefence.in organises different type of Selfdefense classes in Delhi

Here at Selfdefence . in we believe every individual has the right to a safe existence.Although all self defence courses are based around the same basic format, we understand everyone has different needs, therefore we can tailor courses to suit the individual requirements of you or your group.
Self protection courses can also take place nationwide at your own venue.
Specific Needs
We acknowledge that the term specific needs covers such a vast range so please contact selfdefence.in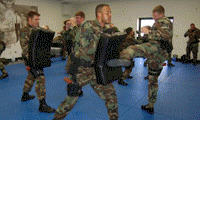 The following is a brief overview on how various groups needs may vary.

Private tuition
We provide private self defence and anti bullying classes on request.

Ladies Only
The patterns of attack tend to be different for males and females. Generally when a male is attacked it is usually from the front and dose not have a sexual motive. On the other hand when a female is attacked by a male it is usually from the "blind side" ie from behind and may well have a sexual motive. Therefore the type of techniques taught vary to deal with very different scenarios.
In addition women tend to feel more comfortable in an all female environment when subjects such as rape and sexual abuse are discussed.

The Elderly
We offer courses tailored to suit the physical restrictions that may come with the ageing process.

Offices, Public/Customer Service Staff and Management
Courses for the above will vary according to the nature of the business in question, e.g (a conflict at customer service point of a maternity ward is more likely to be more emotionally charged than that of a conflict at a mobile phone's shop) Although both have the potential to escalate out of hand. Not only does this course teach self defence, it can also be structured for team building.

Security Services
Because of the violent nature of society today there is a growing need for more and more security staff. Be it a Pub, Club or Supermarket. It says something about society when people need protection to buy their groceries ! At selfdefence.in we teach conflict management (how to defuse a situation) should the situation escalate pre emptive striking and restraint techniques are brought in to play. On this type of course there is a greater emphasis placed on the physical, therefore clients would need to posses a reasonable level of fitness.

Martial Arts, Sports, Fitness, Yoga, Brazilian Jui Jitsu, Tae Kwon Do, Wushu, Kung Fu, Karate, Krav Maga, Self Defence, Muay Thai, Fat Loss, Tone up, MMA, Mixed Martial Arts, Brazilian Jui Jitsu, Fitness, Kickboxing, Yoga, tai chi, Martial Arts, new delhi, north delhi, east delhi, west delhi, south delhi, noida, gurgaon, faridabad, ncr, india