TEENAGE KICKBOXING

Teenage kickboxing is designed keeping in mid the requirement and high energy level of teenagers beside helping them out to achieve good physical fitness level it helps them to develop confidence to handle difficult situations in life. Everyone is welcome regardless of your current fitness level (even if you have never taken any exercise before!). A great shared activity for friends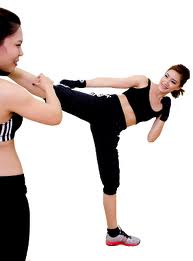 Have fun & develop confidence
Learn self defense skills
Fitness training that helps weight loss
Improve your muscle tone and relieve stress
Improve suppleness and co-ordination
Plus the added sense of achievement through fun of learning new skills
Speed up metabolism
Enjoy a new sport in friendly, unintimidating atmosphere
Enjoying doing a sport with other people in a fun class
Fat Loss: Muscle and Fitness magazine rates kickboxing as the number one fat burner with over 1200 calories burned in one hour class! 1200 Calories! Nothing else comes close.
Toning: Did you ever notice how boxers and kick boxers have very toned bodies? They look like they spend hours lifting weights, when the truth is that they don't lift any weights at all. That's the same look you get from Kickboxing and Fitness Kickboxing. You get tight buttocks, toned legs, a flat stomach and a strong upper body.

Martial Arts, Sports, Fitness, Yoga, Brazilian Jui Jitsu, Tae Kwon Do, Wushu, Kung Fu, Karate, Krav Maga, Self Defence, Muay Thai, Fat Loss, Tone up, MMA, Mixed Martial Arts, Brazilian Jui Jitsu, Fitness, Kickboxing, Yoga, tai chi, Martial Arts, new delhi, north delhi, east delhi, west delhi, south delhi, noida, gurgaon, faridabad, ncr, india